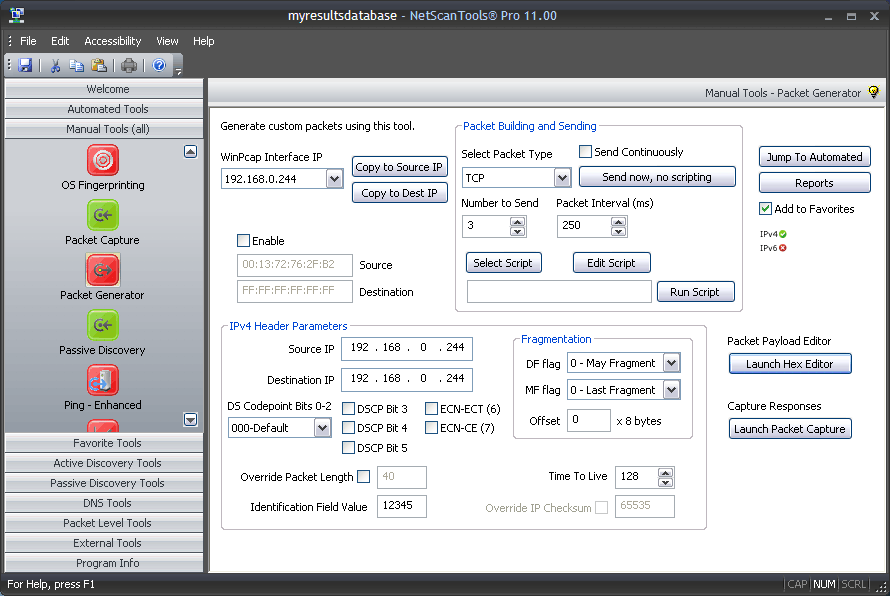 NetScanTools® Pro 11 delivers an advanced set of network tools into your hands. Tools you need to troubleshoot, diagnose, monitor and discover devices on your network. Network engineers have relied on NetScanTools Pro for over 10 years.
Thousands of network professionals rely on NetScanTools® Pro to solve their daily network problems.
We give you a powerful set of network tools - and version 11 puts them into a new interface.
Need IPv6? version 11 introduces our first IPv6 specific tools.
Active Discovery and Diagnostic Tools
There are many Active Discovery and Diagnostic Tools that you can use to locate and test devices connected to your network. Active discovery means that we send packets to the devices in order to obtain responses.
ARP Scan (MAC Scan)
DHCP Server Discovery
Network Shares - SMB
Network Routing Visualizer
OS Fingerprinting
Packet Generator
Ping - Enhanced (IPv4/IPv6)
Ping Scanner
Port Scanner
Passive Discovery Tools
The Passive Discovery Tools are used to find information from third parties or to monitor the activities of devices connected to your network. Passive discovery means that we listen to packets other devices send in order to obtain information about the devices.
Connection Monitor
Network Connection Endpoints
Packet Capture
Passive Discovery
Whois
DNS Tools
The DNS Tools are very versatile and help you find problems with DNS. The DNS tools are divided between 'Core' and 'Advanced' toolsets. Version 11 introduced IPv6 specific DNS tools.
DNS Tools - Core
nslookup - 48 resource record types
Dig - 48 resource record types
Dig+trace - shows delegation path
Get Basic DNS Records - SOA, A, AAAA (IPv6), NS, MX, CNAME, PTR, TXT
Zone Transfer - automatic or manual server selection
Default System DNS Tools
Simple Query - IPv4/NetBIOS names
Simple Query - IPv6
Who Am I?
Test Default DNS
Flush Default DNS Cache
Click to download